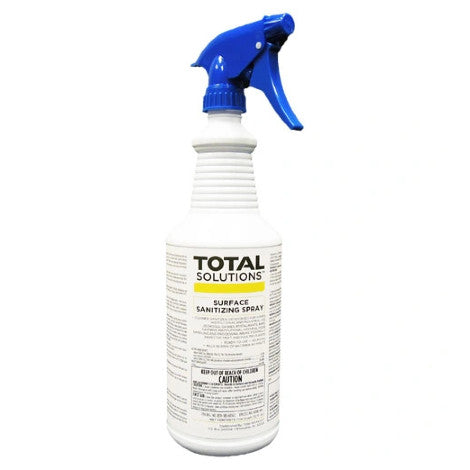 Surface Sanitizing Spray
Surface Sanitizing Spray is built with a versatile broad-spectrum sanitizer that has multiple uses on a wide variety of hard, non-porous surfaces.
Kills 99.999% of Staphylococcus aureus, Klebsiella pneumoniae, and Escherichia coli on food contact surfaces in 60 seconds, and requires no water rinse; also sanitizes non-food contact surfaces in just 30 seconds.
Sanitizes hard non-porous surfaces: restaurants & food processing plants, schools & colleges, sports complexes & stadiums, food preparation equipment, dishes & glassware, coolers & refrigerators.
Ideal for use in food handling and processing areas, convenience stores, restaurants, health clubs, grocery stores and kitchens. 
EPA-Registered - NSF D2 certified
Features and Benefits:
Ready-to-use formula, no mixing required
Kills 99.999% of bacteria, in just 1 minute, that can cause food borne illness
No rinse formula, a potable water rinse is not required for food contact surfaces
Effective Against:
Staphylococcus aureus
Escherichia coli
Yersinia enterocolitica
Campylobacter jejuni
Salmonella typhi
Shigella dysenteriae
Enterobacter aerogenes
Directions: (Complete directions on product label)
Sanitize food contact surfaces: Clean and rinse surfaces before sanitizing. Wet surfaces for at least 1 minute to sanitize. Allow to air dry.
Sanitize previously cleaned food·grade eggs: The product should be warmer than the eggs, but not to exceed 130°F. A potable water rinse is required if the eggs are immediately broken for use.
Product Label
SDS
Technical Data Sheet
Part# 169