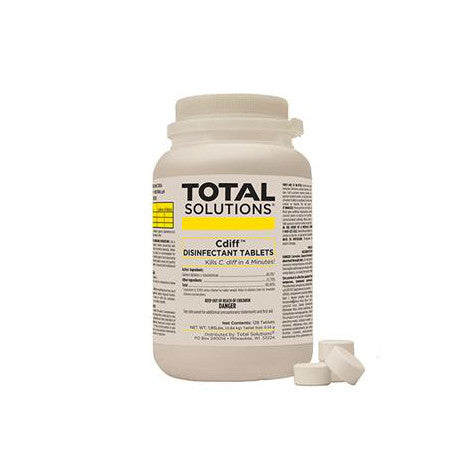 Cdiff Disinfectant Tablets
Cdiff™ Disinfectant Tablets kill Cdiff spores in 4 minutes and have a near neutral pH of 6.0. They are bleach free and utilize an active ingredient called sodium troclosene.  Sodium troclosene is much more stable than sodium hypochlorite, and releases chlorine at a much slower rate. 
This means that Cdiff™ Disinfectant Tablets produce a solution that maintains disinfecting power for 7 days, in a sealed container and 24 hours in an open container, vs. bleach solutions that become inactive after a day.  In solution, sodium troclosene has a pH of around 6.0, this mild pH means that Cdiff™ Disinfectant Tablets will be much less aggressive on surfaces, including floor finishes, than traditional bleach products which regularly have a pH of 11+. 
Cdiff™ Disinfectant Tablets are more effective, at lower doses, than Quaternary Ammonium Compounds, bleach, hydrogen peroxide, and peracetic acids. Germs cannot build up a resistance to Cdiff™ Disinfectant Tablets and the solution is not deactivated by organic matter or cloth as other disinfectants can be.
Boasting a 2 year shelf life, Cdiff™ Disinfecting Tablets ship DOT non-hazardous, are small and convenient, and will help you reduce transport space, storage space, and wasteful packaging.
EPA Registered
Features and Benefits:
A broad-spectrum disinfectant, virucide and mildew cide
Effective in both hot and cold water
Disinfects and protects against odor.
2 year shelf life
Ships DOT non hazardous
Effective Against Bacteria, Viruses and Fungus:
Clostridium difficile (C. diff)
Carbapenan resistant Klebsiella Pneumoniae
Klebsiella pneumoniae
Staphylococcus epidermidis
Staphylococcus auresus (GRSA & MRSA)
Enterococcus faecalis (Vancomycin Resistant)
Acinetobacter baumannii
Influenza H1N
Herpes Simplex Virus Type 1
Salmonella enterica
Hepatitis A & B Virus
Trichophyton mentagrophyte
Escherichia coli O157:H7
Poliovirus type 1
Pseudomonas aeruginosa
HIV – 1
Respiratory syncytial virus
Infectious Canine hepatiti
Norovirus
Canine parvovirus
Canine Distemper virus
Newcastle Disease virus
Pseudorabies virus
And many more
Use to Disinfect:
Hospitals - Operating Rooms  - Nursing Homes - Medical & Dental Clinics
Day Care Centers – Nurseries - Medical Research Facilities
Cosmetic, Pharmaceutical & Medical Device Mfg Facilities
Veterinary Clinics – Kennels - Zoos & Pet Shops - Animal Life Science Labs
Directions: (Complete directions on product label)
To Disinfect: Add 2 of the 6.55 gram tablets to 1 gallon of water. Contact time : 10 minutes.
For C difficile spores: Add 2 of the 6.55 gram tablets to 1 quart of water or 8 of the 6.55 gram tablets to 1 gallon of water. Contact time: 4 minutes.
Product Label
SDS
Technical Data Sheet
Part# 160