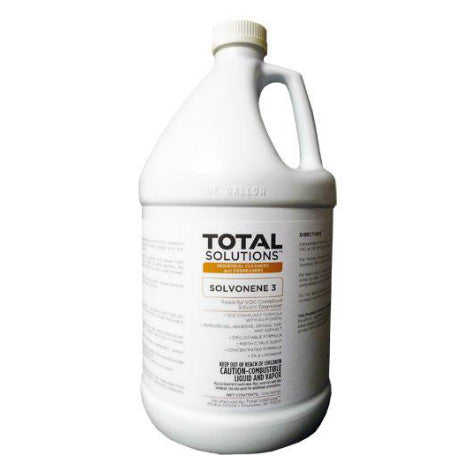 Solvonene 3 - 95% d-Limonene Substitute
Solvonene 3 is a powerful solvent degreaser and the next-generation alternative to NON-VOC compliant, citrus-based products. It removes heavy greases and oils, without damaging surfaces, while leaving a fresh citrus scent. An alternative to 93% d-Limonene, it is powerful enough to break down asphalt. VOC compliant in most states.
d-Limonene is a more effective degreaser than petroleum distillates yet does not contain the hazards associated with butyl or harsh alkalies. It is biodegradable, non-toxic and considerably less harmful to humans than traditional solvents and degreasers. And the fresh, clean, natural scent of oranges is not only pleasant, it eliminates the need to add expensive perfumes. 
Use full-strength, or dilute with water 1:10, 1:25, 1:40, or 1:60 depending on the severity of soil.
Features & Benefits:
Emulsifiable formula
Fresh citrus scent
Excellent Parts Cleaner
Effective Against:
Adhesives, Grease, Marker, Motor Oil, Rubber Carpet Backing, Tar and Asphalt
For Use On:
Brick, Concrete, Masonry, Metal, Stone and many Plastics.
NOT FOR SALE IN CALIFORNIA
Product Label
SDS
Technical Data Sheet
Product Ingredient Information
Part# 453