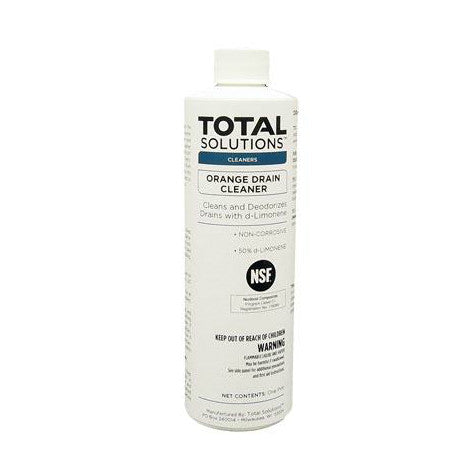 Natural Orange Drain Cleaner w/ d-Limonene
NSF Authorized
A safe, all-natural product that allows you to remove clogs, as well as maintain and deodorize drains and grease traps. Formulated with the all-natural orange peel extract d-Limonene, this product easily cuts through heavy grease and grime. It also deodorizes as it cleans, leaving behind the pleasant fragrance of fresh oranges. Non-corrosive, safe to use on most pipes and can also be safely used to deodorize septic tanks. Blends d-limonene, grease-stripping solvents and emulsifying agents to keep drains clear of obstructions and clogs. It's the safe alternative to hazardous acids or caustic drain cleaners.
Eliminates:
Fatty deposits
Organic debris
Greasy build-up
Annoying odors
For Use In:
Drains
Sinks and grease traps
Septic tanks
Wet wells and drain fields
Directions:
Clogged drains: Add 16 ounces to drain, wait 30 minutes before flushing.
Maintain drains: Add 4 ounces to drains weekly.
Grease traps: Add 1 gallon directly into trap or nearest sink.
Septic tanks: Add 1 gallon directly to tank and distribution box.
Product Label
SDS
Technical Data Sheet
Product Ingredient Information
Part# 379