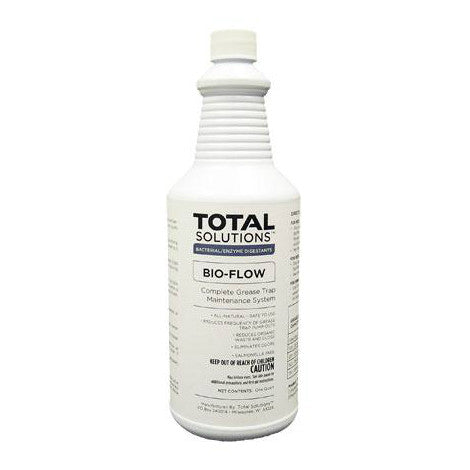 Bio-Flow Grease Trap Maintenance Enzymes
A powerful digestant containing special enzymes that immediately break down starch and complex carbohydrates to energize the bacterial replication of our five distinct bacterial stains. Unlike detergents that simply push grease into sewer lines, these bacterial strains work together to quickly and naturally degrade organic waste. This process not only eliminates greasy accumulations, but also helps eliminate obnoxious odors at the molecular level while a pleasant fragrance keeps traps and plumbing lines smelling fresh.
Features & Benefits:
A complete grease trap maintenance system.
Fast-acting bacteria keep drain lines free from clogs.
Reduce pump-out frequency and maintenance costs.
The specially formulated bacteria spores also resist chlorine, disinfectants and high-water temperatures.
Effective Against:
Urine and feces
Mold and mildew
Soap and hard water stains
Odors and organic spills
Directions:
Restaurants: Pour, drip or pump directly into drains during low flow periods such as after lunch or after midnight.
Sinks and floor drains: Pour 2-6 ounces per week during low flow periods.
Product Label
SDS
Technical Data Sheet
Product Ingredient Information
Part# 543