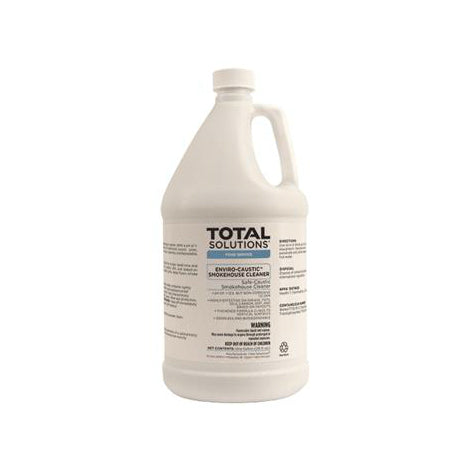 Enviro-Caustic Non-Hazardous Smokehouse Cleaner
Enviro-Caustic™ Non-Hazardous Smokehouse Cleaner is a true breakthrough cleaner. With only a mild odor it features a caustic formulation with a pH of over 12.5, and offers the performance of traditional caustic oven, grill, and smokehouse cleaners, however it is: Non-Corrosive to Skin, Odorless, Biodegradable, and ships DOT Non-Hazardous.
The superior foaming formula will cling to vertical surfaces, allowing for longer dwell time and better degreasing. Enviro-Caustic™ is highly effective on grease, fats, oils, carbon, dirt, and baked-on deposits on food prep and cooking surfaces such as ovens, grills, deep fryers, smoke houses, and meat curers.
Works On: Oils, Grease, Fats, Carbon & Baked on Deposits.
For Use On:
Ovens & Grills
Smokehouses and Deep Fryers
Food Processing & Meat Curing Equipment
Directions (complete directions on product label):
Use as is or dilute with up to 10 parts hot water.
Adjust dilution rate according to the equipment mfr's instructions.
Apply directly onto surface. Allow to penetrate and soften deposits.
Scrape away loosened deposits.
Rinse with clean hot water.
Product Label
SDS
Technical Data Sheet
Product Ingredient Information
Part# 433