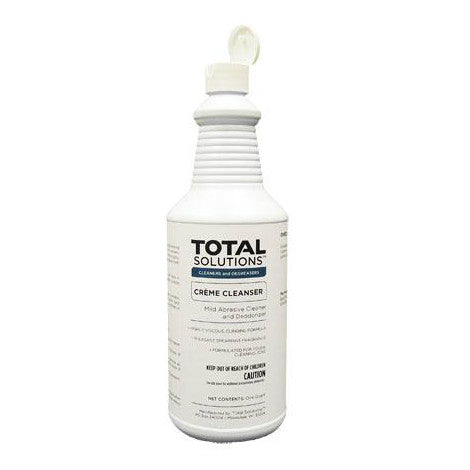 Creme Cleanser Thickened Cream Cleaner (Mild Abrasive)
This highly viscous, mild abrasive cleanser is perfect for tough cleaning jobs. It has the power to remove some of the toughest stains and soils from countertops, sinks, showers and more with just a light rubbing action. Best of all, it's safe to use on all kinds of surfaces like porcelain, ceramic, chrome, formica and other non-porous surfaces not easily scratched by mild abrasive cleansers.
Benefits:
Rinses completely and will not leave behind a film or residue.
Highly viscous clinging formula
Pleasant spearmint fragrance
Effective Against:
Grease
Mildew
Rubber marks
Stubborn scuffs
Soap scum
Directions:
Squeeze directly onto surface or on wet cloth, sponge or brush.
Loosen soil with rubbing action
Rinse. For bright shine, polish with soft dry cloth.
Product Label
SDS
Technical Data Sheet
Product Ingredient Information
Part# 164