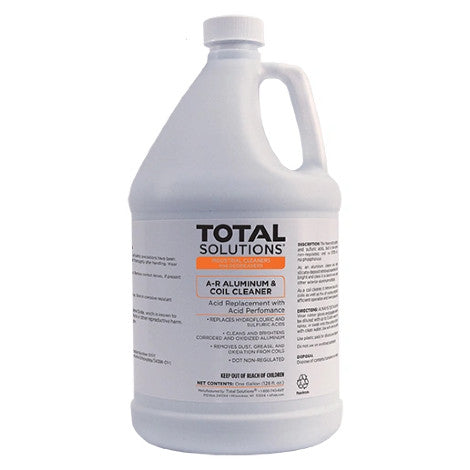 Acid Replacement Aluminum & Coil Cleaner
Heavy-duty acid replacement formula features the performance of hydrofluoric and sulfuric acids with a pH of less than 1, however it's non-corrosive to skin, making it a far safer alternative.
As an Aluminum Cleaner and Brightener, it has outstanding calcium, limescale and silicate-deposit removal properties. It quickly removes corrosion and oxidation, leaving surfaces bright and clean. It is ideal for use on aluminum trailer bodies, boats, building materials and most other exterior aluminum surfaces.
As a Coil Cleaner, it removes dust, dirt, grime, grease and oxidation from aluminum or copper coils as well as fins of cooling units and air conditioners. Use it regularly to clean coils for more efficient operation and lower power consumption.
DOT non-regulated. No EPCRA risk management plan filing is required.
Features & Benefits:
Replaces hydrofluoric and sulfuric acids
Non-corrosive to skin
Cleans and brightens corroded and oxidized aluminum
Removes dust, grease, and oxidation from coils
Non-Phosphorus
DOT non-regulated
No EPCRA risk management plan filing required
Applications:
Removes calcium, limescale and silicate-deposits from aluminum
Quickly removes corrosion and oxidation, leaving surfaces bright and clean
Cleans aluminum trailer bodies, boats, building materials and most other exterior aluminum surfaces
Removes dust, dirt, grime, grease and oxidation from aluminum and copper coils and cooling units and air conditioners
Directions (complete directions on product label):
Dilute 1 part cleaner with up to 5 parts water
Brush or swab onto surface then rinse with water
Product Label
SDS
Technical Data Sheet
Product # 104