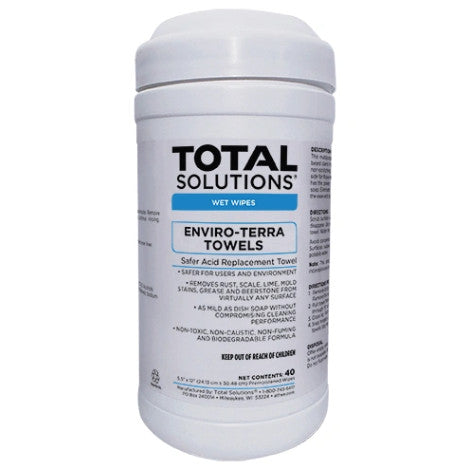 Non-Acid Rust-Scale-Lime Remover Wipes
Enviro-Terra Towels were developed to safely remove mineral-based stains from a variety of surfaces. The dual sided towel features a textured, yet non-scratching side for stubborn deposits, and a smooth side for smaller stains. Features the heavy-duty cleaning power of a low pH acid, yet are as safe and mild to the skin as dish soap would be.
Enviro-Terra Towels combine the efficacy of the Enviro-Terra liquid products with the convenience of a wipe to provide a powerful cleaning option for mineral-based stains such as: hard-water scale (calcium), soap scum, rust, and discoloration from a variety of surfaces. May be used in restrooms and kitchens on food-prep surfaces and on appliances large and small (coffee makers). May even be used on fish tanks and humidifiers.
Benefits:
Removes Rust, Scale, Lime, Mold Stains, Grease, Calcium, Beerstone, Soap Scum
As mild as Dish Soap without compromising cleaning performance.
Non-Toxic, Non-Caustic, Non-Fuming, Biodegradable Formula.
Works on hard surfaces such as: Tile, Porcelain, Stainless Steel, Concrete, Stone, Fiberglass, Quartz.
Specifications:
9.5" x 12" dual sided magenta towel
40 wipes per canister, 6 canisters per case
Pleasant fragrance
Product Label
SDS
Technical Data Sheet
Part# 1635