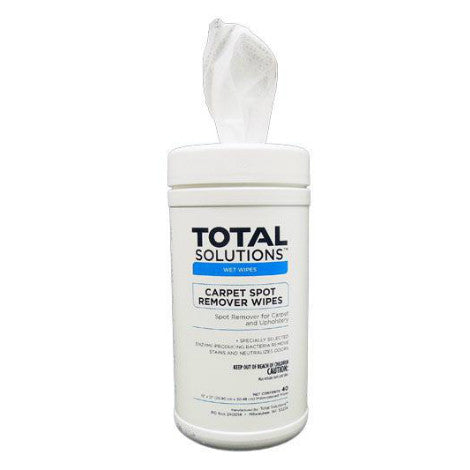 Carpet Spot Remover Wipes (6 x 40 ct)
Pre-moistened 10" x 12" wipes with a combination of powerful cleaning agents and live, waste digesting bacteria to remove tough stains from carpet and upholstery. Within seconds, cleaning agents immediately separate soils from fibers while the bacteria digest any organic matter that may be present. Odors are suppressed with a pleasant fragrance, which is especially helpful in eliminating foul stains caused by pets, vomit, mold, mildew and spoiled food. 6 containers of 40 wipes per case.

Benefits:
Removes tough stains and soils from carpet and upholstery.
Powerful combination of cleaning agents and live waste-digesting bacteria.
Excellent at countering odors.
Effective Against:
Wine and juice
Make-up and ketchup
Ink and oils
Pet stains
Directions:
Scrub stain spot vigorously with a towel until stain begins to disappear.
For organic waste stains, after cleaning stain, lay a second wipe over spot for 24 hours so bacteria may destroy matter causing odor.
Product Label
SDS
Technical Data Sheet
Part# 1546