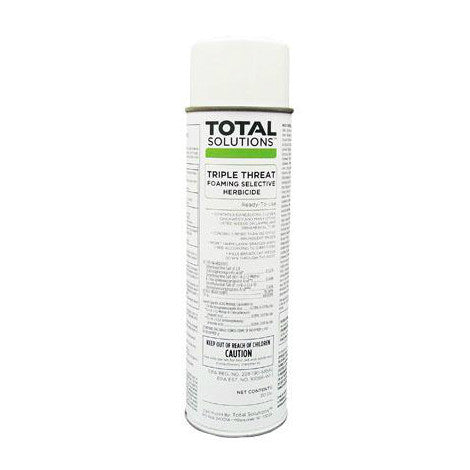 Triple Threat Selective Weed Killer Foaming Aerosol Spray
Triple Threat Selective Weed Killer Foaming Aerosol Spray is a ready-to-use, selective herbicide kills up to 140 different broadleaf weeds. As an aerosol, its special foaming action allows for accurate application without harming desired plants or grasses.
Features & Benefits:
High-intensity actuator accurately pinpoints weeds without hitting desired plants.
Foaming spray shows coverage to avoid over application.
Effective Against:
• Alder, artichoke, aster, autrian fieldcress, beggartick, biden, bindweed, bitterweed, bitter winter cress, black medic, blessed & bull thistle, blue lettuce, box elder, broomweed, buckhorn, burdock, bur weed, buttercup, Canada thistle, carpet weed, catnip, chicory, chickweed, clover, cockle, cocklebur, coffeebean, common sowthistle, creeping jenny, croton, curly indigo, dandelion, dock, dogbane, dog fennel, elderberry, english daisy, Florida pulsy, Frenchweed, galinsoga, goatsbeard, goldenrod, ground ivy, gumweed, hawkweed, healall, heartleaf, hemp, henbit, hoary cress, honeysuckle, horsetail, indian mallow, ironweed, jewelweed, jimsonweed, kochia, knotweed, lambsquarter, locoweed, lupine, mallow, marshelder, mexicanweed, morning glory, muck thistle, mustard, nettle, nutgrass, orange hawkweed, oxalis, parsnip, plantain, poison hemlock, poison ivy, poison oak, pokeweed, poor joe, povertyweed, prickly lettuce, primrose, puncture vine, purslane, ragweed, red clover, red sorrel, rush, Russian thistle, St. Johnswort, shepardspurse, sneezeweed, smartweed, shhep sorrel, southern wild rose, sowthistle, spanish needle, spatterdock, speedwell, spurweed, stinkweed, stichwort, msumac, spurge, sunflower, sweet clover, tarweed, thistle, toadflax, tumbleweed, velvet leaf, veronica, vervain, vetch, Virginia buttonweed, Virginia creeper, willow, witchweed, wormseed, yarrow, yellow rocket & more!
Restrictions:
PERMITTED for sale ONLY in these states:
CA, CO, IL, IN, MI, MN, MO, NY, OH, PA, TX, WI
BANNED for sale in all other states not listed above.
Product Label
SDS
Technical Data Sheet
Part# 8363