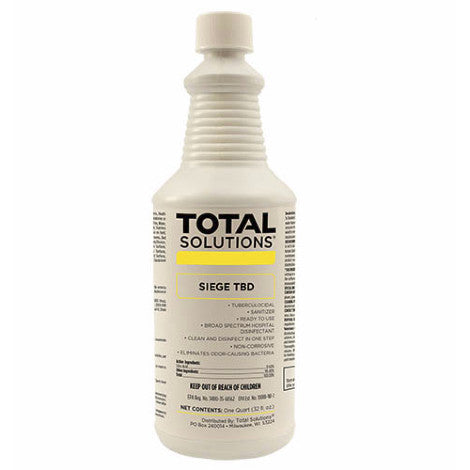 Siege Tuberculocide
Siege TBD is a ready to use Tuberculocidal broad spectrum hospital disinfectant and sanitizer. Clean and disinfect in one step using this non-corrosive formula. Siege TBD can be used on hard, non-porous surfaces. Using a naturally derived active ingredient, citric acid, Siege TBD is powerful enough to kill HIV-1, TB, and Staph, along with many other viruses, bacteria, and fungi. Siege TBD removes the following allergens: cockroach debris/matter/particles, dust mite debris/matter/particles, pet dander, pollen particles, grass. This disinfectant is an ideal ready to use solution for your disinfecting and sanitizing needs.
For use in: hospitals, bathrooms, medical offices, dialysis units, dental offices, day care centers, schools, health care facilities, nursing homes, exercise facilities, kennels, veterinary clinics.
*SIEGE TBD (Primary EPA Registration #34810-35) has demonstrated effectiveness against viruses similar to Coronavirus on hard, non-porous surfaces. Therefore, SIEGE TBD can be used against Wuhan Coronavirus when used in accordance with the directions for use against Feline calicivirus on hard, nonporous surfaces. Refer to the CDC Website for additional information.
Features & Benefits:
Naturally derived active ingredient
Ready to use formula that kills TB
Cleans and deodorizes
Safe on plastic, glass, and metal
Water-based, bleach free formula
Specifications:
Fresh fragrance
pH 2.0-2.3
Colorless liquid with 0.60% Citric Acid
Product Size: Gallons and Quarts
Product Label
SDS
Technical Data Sheet
Part# 161
Effective Against*:
Staphylococcus aureus (MRSA) • Staphylococcus aureus • HIV-1 • Hepatitis B & C Viruses • Enterococcus faecalis (VRE) • Trichophyton interdigitale • Escherichia coli 0157:H7 • Feline Calicivirus (surrogate for Norovirus) • Salmonella enterica • Listeria monocytogenes • Mycobacterium bovis • Poliovirus Type 1 • Staphylococcus epidermidis (MRSE) • Influenza A Virus (Strain Hong Kong) • Canine Parvovirus • Pseudomonas aeruginosa • Rotavirus • Rhinovirus • Many others